Floating photovoltaic panels
10 October 2018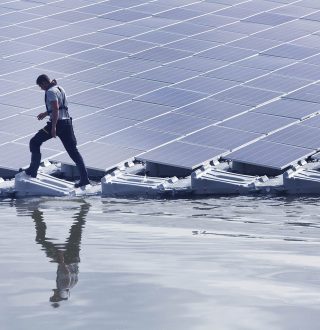 Hesbaye Frost is banking on the installation of photovoltaic panels to achieve its goal of totally self-produced renewable energy.
One of the treated water storage basins with a surface area of ±2.5 ha and a capacity of 110,000 m3 has been partly covered with 3,200 photovoltaic panels. They each produce in the order of 300 peak watts, i.e. a total power of 1 peak megawatt.
The panels' generated electricity combined with the power from co-generation (Haut-Geer BIOGAS) covers more than 30% of the factory's energy requirements with renewable energy.
The energy produced by the installed panels, an estimated 980,000 kWh, will be equivalent to the annual average consumption of three hundred households, i.e. all the families of the Hesbaye Frost personnel.
Technical necessity
Choosing this type of installation can be explained by sealing constraints of the factory roofs as they mainly cover freezers. The photovoltaic panels could not be fastened mechanically but had to be placed and ballasted on the roofs. A constraint that "dampened" the operation of this significant area.